GV-1 SERIES
HEAVY LOAD VERTICAL TURNING CENTER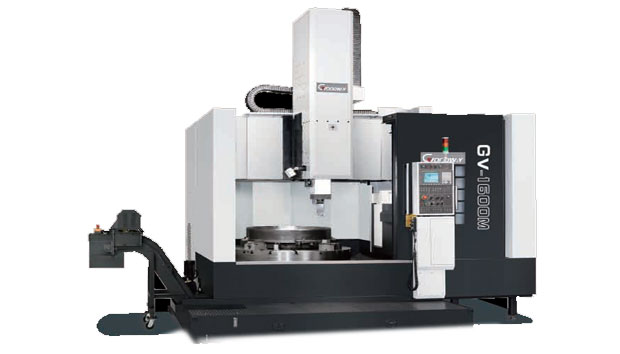 Packed with industry leading technology and top quality components, the Goodway GV-1 series vertical turning centers combine incredible power, strong constructions, and heavy duty cutting capabilities to bring you The Ultimate Machining Power®.
These maximum performance machines will easily accomplish the demanding turning applications of today and tomorrow. With maximum turning diameter up to 1,800 mm, maximum weight load up to 8,000 Kg, and available milling spindle & Cf-axis capabilities, turning, milling, contour milling and drilling applications may be completed in one single machine.



Extremely rigid crossrail is designed with box-shaped structure to prevent thermal displacement and assure
machine stability during turning operations.

The column is adopted with the high-low box way design to firmly support the crossrail while minimizing
structural distortion and increasing rigidity.
Crossrail is mounted with 4 sets of up / down-positioning mechanism providing strong locking-positioning at each point which strengthens the overall rigidity of the crossrail and tooling spindle, thus assuring high
accuracy for these series.

Casting structure of GV-1600M model shown

Tool Spindle
Ø 90 mm big diameter NN TYPE high-precision roller bearings provide high-rigidity and low-wear advantages.

The optional milling spindle is also available to provide high efficiency multi-tasking capabilities.


Work Piece Spindle
The high rigidity, high rotation accuracy cross roller bearing can sustain radial, axial and torque compound loads to ensure machining accuracy under long-term heavy work loads.

Standard high-speed ratio, high-torque 2-speed gear box mated with α40/6,000i series spindle motor provides ample power output for heavy-duty cutting.

High Efficiency Simultaneous Turning
With the advanced twin spindles and twin turrets construction, one turret can cut a work piece in one spindle with the other running at the same time. One simultaneous turning machine means replacing two machines which increases working efficiency.


High Rigidity Work Table
High rigidity work table with a standard 4-jaws individual manual chuck provides easy operation and outstanding heavy-duty cutting capability.