GS-200 SERIES
HIGH QUALITY TURNING CENTER
Based on our industrial leading technology and top grade components, the GS-200 series is designed with a 30° true slant bed and Fanuc α P series spindle motor, which provides maximum torque output during low speed. 2 sizes of machine body and 3 sizes of bar capacity ( 6 combinations ) are available to meet most cutting requirements. Furthermore, the optional live tooling turret, sub-spindle, Y and C axes allows the GS-200 series to achieve various complex operations including milling, tapping, drilling, and contour machining.

Major structural components have been combined into one solid platform. The low center of gravity 30° slant bed design provides the most rigid foundation possible for the headstock, turret, and tailstock.

Built to endure years and years of rigorous high production turning, the heavily ribbed, one-piece thermally balanced bed and casting components are of FC35 Meehanite casting ( industry standard is FC25~30 ). FC35 grade cast iron is capable of withstanding much greater stress without deforming and provides maximum vibration dampening, which result in a machine that will outlast and outperform the competition.

Casting structure of GS-200L model shown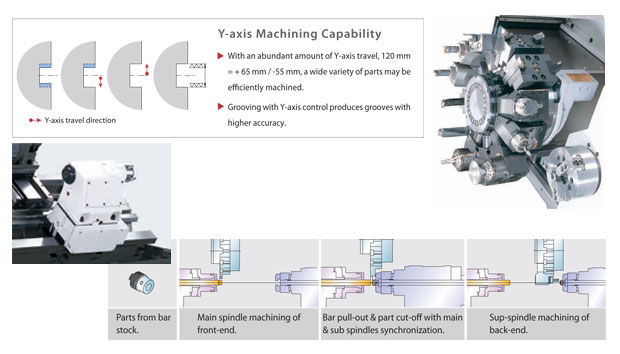 Back-end Machining Capability
A 6" chuck size sub-spindle driven by a powerful 11 Kw ( 15 HP, Peak ) built-in type Fanuc motor ( Integrated
Motor ) for back-end machining is available on the GS-200 series.

Optional 12-station Live Tooling Turret
The 12-station Goodway live tooling turret oers 12 stations available for live tooling.

Built-in Type Tailstock
Built-in Type Tailstock ( Opt. ). The extension and retraction of the quill is programmable and thrust pressure adjustable.