GTS-201 SERIES
TWIN SPINDLES & TURRETS TURNING CENTER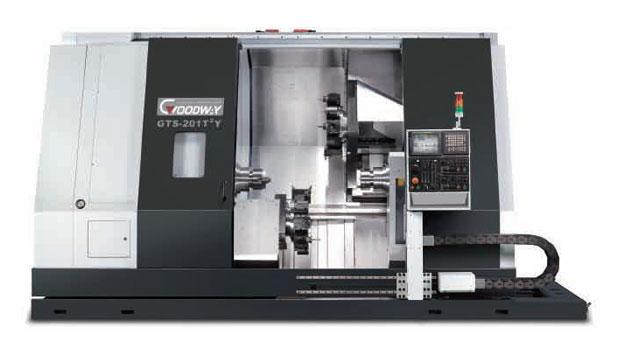 The GTS-201 series is a machine with high efficiency, multi-tasking capabilities. The twin built-in spindles with
upper / lower turrets structure gives you high accuracy and excellent balancing of turning power. The upper and lower turret can simultaneously work on the same side of the work piece which saves a tremendous amount of time. It can also be paired with an optional loading / unloading system to save manpower and cycle time for mass production.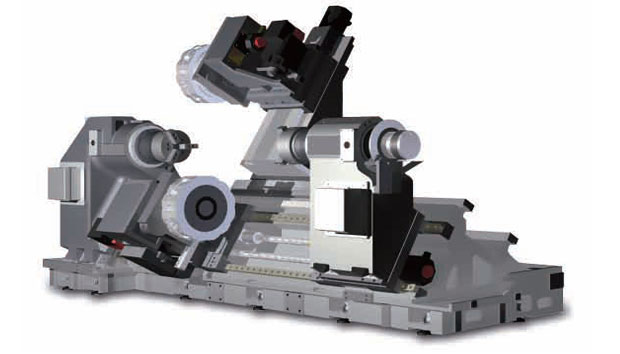 Double low center of gravity slant bed deign provides 30% more rigidity than average slant beds.

The machining area is designed with a 60° slant bed for easy access and chip disposal while
eliminating heat effects.

The ground box guideways combined with roller linear guideways ( 2nd spindle & 2nd turret ) provides high speed, high rigidity cutting power.

Casting structure of GTS-201 model shown

High Performance Live Tooling Turret
Ø 250 mm diameter super high precision curvic couplings with spindle-driven live tooling turret provides optimum cutting performance.
High Efficiency Simultaneous Turning
With the advanced twin spindles and twin turrets construction, one turret can cut a work piece in one spindle with the other running at the same time. One simultaneous turning machine means replacing two machines which increases working efficiency.


High Precision Built-in Spindle
The main and sub-spindle modules are equipped with cylindrical roller bearings which are better than angular contact bearings. The main spindle is installed with a built-in spindle motor which eliminates power loss and belt slipping problems. The C-axis with high resolution magnetic encoder provides high precision contour machining capability.


Advanced Slide Way Design
The X / Y axes are adopted with high-rigidity, extra-wide box way design to provide solid foundation for heavy-duty cutting. The Z / Zs axes are adopted with high-speed, high-precision roller linear guideway design to increase work piece overall accuracy and maintain excellent cutting rigidity.