Control System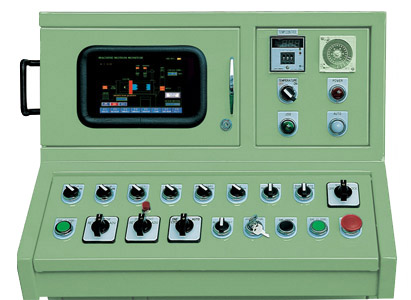 The control systems of all of our machines are designed to provide the highest level of reliability combined with the simplicity of a user-friendly touch screen interface to maximize production and minimize training requirements. We utilize a proven industrial grade programmable logic controller combined with an operator interface that allows control and setup of all operating parameters as well as providing diagnostics and memory for all machine functions.
Operators and maintenance personnel can monitor and troubleshoot the entire system from the convenient screen. A live action machine profile, timer and counter access, operation mode changing, core sequencing and input and output monitoring are accessed from this interface.
Clamping System

The heart of any die casting machine is the clamping system. Our machines have been designed and built to provide years of trouble free service. We have selected materials, components and designs, which have been proven in some of the harshest environments possible. Many manufacturers have built machines that appear similar to ours, but analyzing their entire structure, our machines come out on top.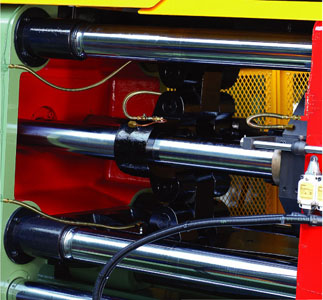 We start out with our unique 6-tie bar design which enables us to provide additional support through the entire three platen assembly. Our platens are cast steel and heat-treated. We do all of our own machining on CNC equipment in our own facility to insure strict control of tolerances. All of our linkage components are a special steel alloy and are heat-treated after CNC machining. Additionally, we now furnish a central automatic oil lubrication system as a feature. Tie bars, guide bars and toggle pins are also alloy steel and heat-treated. Our tie bars are N 2 heat-treated for durability.
Every machine we build shares the same design including standard central motorized die height adjustment utilizing a strong bull gear; large diameter toggle pins and guide bars and an optional strong ratchet safety system to insure years of safe operation. Larger models (P130 and above) also offer a central hydraulic platform to change shot positions.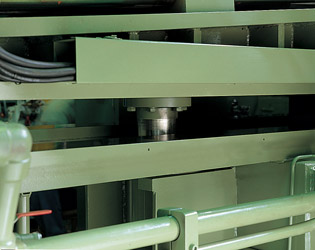 The shot ends of our machines are constructed to withstand the severe heat and pressure present in all hot chamber die casting shops. Heavy welded A frames straddle the furnace and allow flexibility for launder systems. The A frame, shot cylinder and front platen are water cooled. Large diameter guide bars are furnished in addition to the nozzle adjustment, which is hydraulically operated and can be set to break away or remain fixed at the customer's option. Because of our six tie bar design, the toggle mechanism can be retracted away from the nozzle area for easy access and maintenance.
Our new dipped style gooseneck design prevents freezeups and reduces porosity by immersing the gooseneck below the metal surface. Our shot ends are further enhanced with the addition of a piston type accumulator for greater efficiency. Our goosenecks are cast alloy steel with hardened solid bottom sleeves for maximum life. Massive shot cylinder, lines and porting and a dedicated shot end manifold with separate accumulator and controls enable the machines to produce high quality flash free castings. The hydraulic manifold has controls for single, two speed and in larger machines (P130 and above) intensification as well as a complete range of control of shot velocity. Many of the adjustments can be made from the operator interface and the others on valving on the manifold. Total adjustability of pressure, velocity and timing as well as memory retention of settings are standard on every machine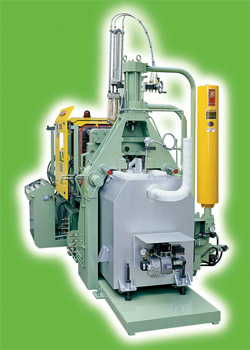 The hydraulic systems on our machines are perhaps the best feature we offer. A high energy efficient motor and pump are located to maximize performance and minimize noise. Separate manifolding for the clamping system, the shot system and on larger machines, the core pull and hydraulic ejector provide efficient delivery of the fluid to enable smooth, trouble free operation. By utilizing separate accumulators for developing closing speed and operating the shot system, we eliminate the need for larger, more energy consuming pumps and this allows lower operating pressure to provide stable performance with less maintenance required.
All machines utilize our proven system that provides a large hydraulic fluid reservoir with baffling to isolate the suction and return sides of our system. Optional large capacity suction and return line filters insure top performance. A large capacity heat exchanger maintains proper operating temperature for the hydraulic fluid.
All machines feature low pressure closing, automatic recycling, hydraulic multiple pulse ejection, hydraulic multiple sequence core pulls, motorized die height and two speed shot as standard. Speed and pressure can be individually adjusted on most of these features.
Our shot systems are of particular note because we provide extremely high shot pressure and velocity comparable to the most sophisticated and expensive machines in the world. A unique sequence valve arrangement coupled with our proprietary circuit design provides our customers with the ability to tailor each set up to the requirements of the job they are running. Parameters can be saved on a log.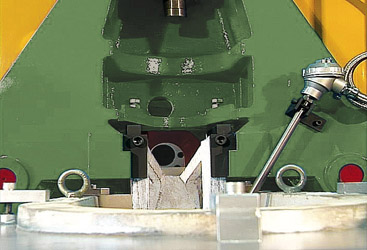 Automation equipment and accessories for our machines were developed and are built in the same facility as our machines. Everything is designed to interface seamlessly with a minimum of setup required. We offer a dependable, proven vertical rotation extractor, a variety of reciprocating spray systems, a variety of conveyor systems utilizing both water quench and an air cooling tunnel and central hydraulic nozzle position changing. We can supply shot monitoring systems, special platen drilling and arrangements, special bases for custom installations and a variety of furnace and fuel options to suit any requirement. For machines to areas requiring CE compliance, we offer optional rear guard gates with interlock as well as toggle pinch guards.
All models are supplied with a complete set of spare parts, tools, manuals, hand spray gun, die lifting boom (models up to P200), die clamps and a complete water manifold and drain system. Our agents provide startup and training with every machine and we stand behind our products with a strong warranty and complete stock of spare parts and factory trained technicians to assist our customer base.
Safety Features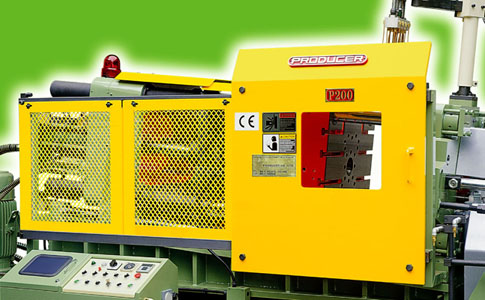 All of our machines come equipped with a full compliment of safety features including hydraulic and electric interlocks. Safety redundancy is provided in all of our circuit designs and critical backups are included. International safety standards including CE and ANSI as well as prevailing local codes are met or exceeded. Safety signs with pictorial symbols are affixed to all areas of the machine.