Vertical Rotation Extractor
We have developed a line of automation components which has been succesfully implemented on our popular die casting machines. We were able to field test all of our equipment in production situations to insure its reliability and performance. All of our automation equipment is designed, manufactured an tested in our modern factory under the same careful supervision as our die casting machines. The result is the best, simplest and most reliable equipment in the industry. Our favorable feedback from our die casting machine users convinced us to offer these devices for customers with existing equipment that want to automate.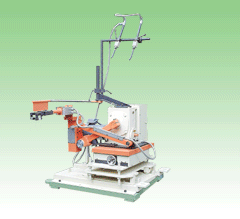 We offer our Vertical Rotation Extractor in two sizes: one designed for machines of up to 200 ton capacity and another for up to 500 ton capacity. Strong motor driven arms are controlled by a frequency drive to insure smooth performance for trouble free operation. The extractors require one electric and one air connection. The control panel consists of a Programmable Logic Controller, adjustable frequency drive and controls for setting up and operating the extractor. The simple and efficient design utilizing a double articulated arm allows smooth, fast and reliable operation.Redundant inputs from machine ejection and guard switches as well as the supplied product confrimation switches insure that the extractor will work with no danger of unintended operation. Once the casting has been detected the extractor sends a signal to start the next machine cycle.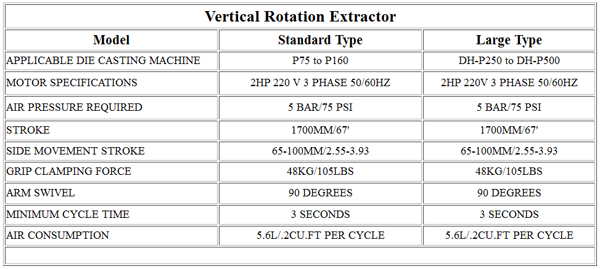 Reciprocating Spray System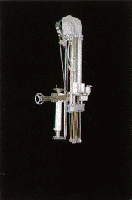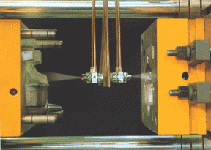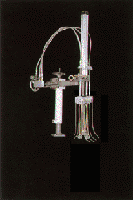 StandardType Simple Type
We have recently developed an improved version of our reciprocating spray system for our die casting machines. The system is available in two styles to suit the needs of various machine sizes. Both styles share common features such as top platen-mounted adjustable positions enabling users to accomodate different die heights and strokes. Both systems also utilize a pressure tank with an air driven motor which agitates the lube solution to prevent separation.
Both also can be programmed by the machine's PLC to allow multiple spray strokes, adjustable spray times, adjustbable spray speed, adjustable air blow time and adjustable air blow speed. Additionally, spray frequency can be programmed to control spray functions between machine cycles.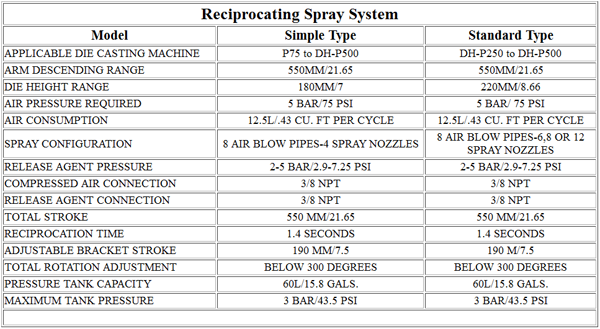 The simple type system consists of a fixed four spray head configuration along with eight air blow pipes. The standard type system consists of a removable manifold with six, eight, and twelve nozzle configurations and eight air blow pipes.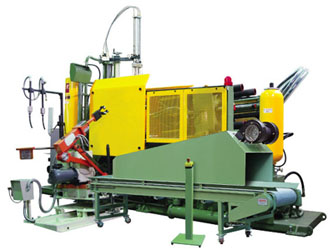 Air Cooling Tunnel Conveyor For Use With Extractor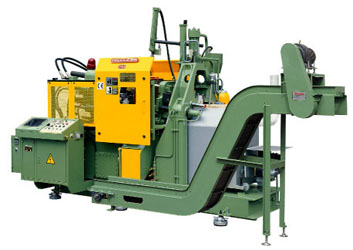 Dry Steel Belt Conveyor
Trim Press
We are proud to introduce a new addition to our growing line of die casting equipment products. We have recently developed a line of hydraulic, four post trimming presses in four popular sizes. These presses are very rugged and are designed to accomodate a large variety of trim dies. Features include PLC controls with touch screen ooperator interface utilizing linear stroke adjustment and diagnostics. They also come equipped with a light curtain, safety ratchet, dual hydraulic pull backs and non contact push buttons as well as interlocked side and rear guarding.

Specification for TP-20