GA SERIES - HIGH C/P VALUE TURNING CENTER
For maximum machining capability, the GA-2000 & GA-3000 series machines are built with box-way slides. With 3 sizes of machine body and bar capacity, most cutting requirements can be met. The GA-2000C series can be interfaced with gantry loading system to achieve maximum productivity. The GA-3000 series with a spindle gear box increases torque in lower speed turning power. Live tooling turrets are available for all series of machines.

GA-3300/W24 Series Car Rim Turning Center
The GA-3300 series equipped with the optional aluminum rim hydraulic chuck turns into a powerful rim processing machine, providing you with maximum strength and wide range working capabilities.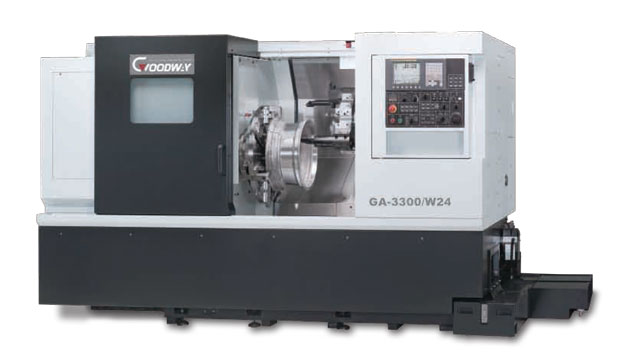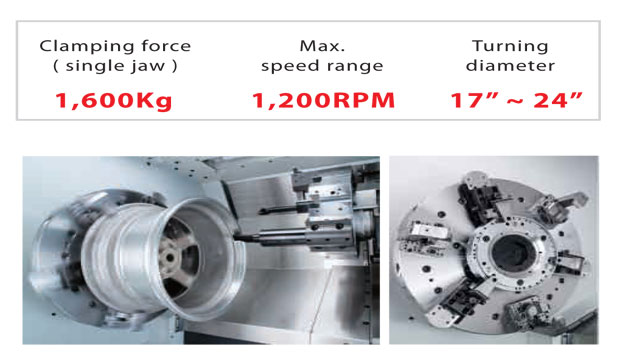 GA-3300 / W24 model shown.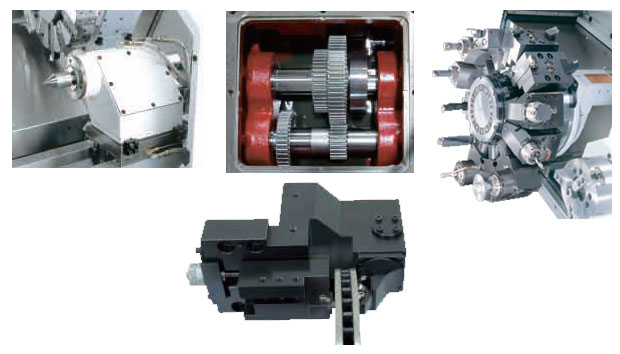 Programmable Tailstock
GA Series machines ( excluding compact bed C models ) feature a standard programmable base and quill tailstock.


Optional 12-station Live Tooling Turret
The 12-station Goodway live tooling turret oers 12 stations available for live tooling ( live tooling tools rotate in working position only ).

GA-2000C Series Compact Turning Center
Rear discharge conveyor systems allow machines to be placed closer together, thus, requiring less floor space. Furthermore, all machine conveyors can discharge onto a central conveyor, which carries the chips to one location; this saves man power and streamlines the chip removal process.

GA-3000 Series GA-2000C Optional Features
The optional 2-speed heavy-duty gear box driven by a 22 Kw ( 30 min. ) motor provides the GA-3000 series tremendous amount of low-end torque to handle heavy material removal on large diameter parts.

Dual-face turning holder allow both sides of a disk-type work piece to be machined at the same time. Tool holder automatically spreads open for retracting tooling to avoid damage to the turned surfaces.